Peace of Mind
The words surrounding Christian Hackenberg are overwhelming.

The conversation is a whirlwind, opinions swirling from every direction, purporting to size up what Penn State's junior quarterback has been, is, and will ultimately be. And it's been like this for nearly five years now, having begun when he received his first college offer following his sophomore season at Fork Union Military Academy in Virginia.
Deciding to play for Bill O'Brien at Penn State, maintaining that commitment in the wake of serious NCAA sanctions against the program, claiming Big Ten Freshman of the Year honors following a sparkling debut season, again choosing to remain with the Nittany Lions amidst the coaching transition to James Franklin and staff, and playing two subsequent years of grueling football – that's been the story of Hackenberg's rise to national prominence. At no point therein has the dialogue quieted, even briefly. Instead, it has intensified into a hurricane of unceasing verbiage.
So, given an open opportunity to talk about any of it, or really, anything at all, Hackenberg balks. He's plainly over it.
"I wouldn't talk about anything, to be completely honest with you," he said. "I'm content."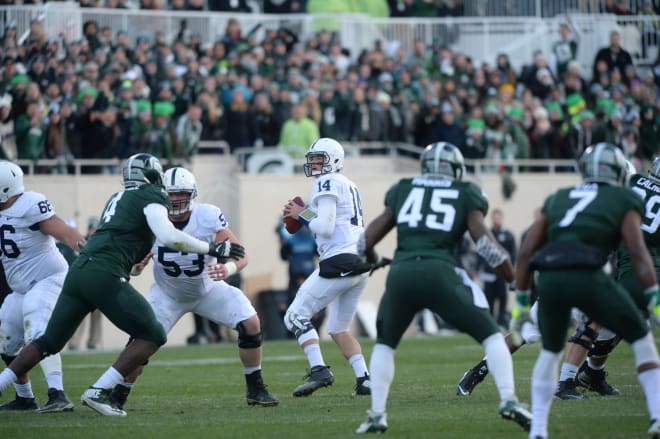 Hackenberg's restraint, coming just days after a lopsided loss to Michigan State on the final afternoon of the regular season, is reflective of a new mindset. A year earlier, the hyper-competitive quarterback might have used drastically different words. He doesn't search for them now, though, drawing on a broader perspective he couldn't always see previously.
Hackenberg harkens back to his origin story, one in which his relationship with the Nittany Lion football program, its players and personnel, the university and its community, could all be mistaken for a first love. Penn State felt like home, 300 miles from his family's home in Palmyra, Va. It had a head coach in O'Brien whose specialty was developing quarterbacks, and it had a culture that offered what Hackenberg saw as a seamless fit.
He had not been a diehard "fan" of the program growing up, preferring to root for individual players such as Florida's Tim Tebow and Notre Dame's Brady Quinn. But his earliest college football memories were of the Nittany Lions. He was born in Tamaqua, Pa., and remembers attending games at Beaver Stadium when he was 4 years old. When he was in middle school, Hackenberg and his younger brother bought Daryll Clark and Derrick Williams jerseys outside the stadium. It was the final game of the 2008 regular season, and the Lions crushed Michigan State, 49-18, to secure a trip to the Rose Bowl. That navy blue No. 17 jersey still hangs in his closet at home.
Although he didn't realize it at first, Hackenberg was developing into a premier quarterback himself. His father, Erick, didn't want him playing organized football until he reached eighth grade, but the Hackenbergs would sling a football around in between Christian's Little League baseball games, and his coach, former Pitt Panther Joe Stone, was so impressed that he asked Erick to relent. As Christian remembers it, the reasoning was simple enough. "I always threw stuff hard," he said, recalling a stern lecture from a parent after beaning an opposing batter. "I didn't always know where it was going, but I threw it hard."
Spending time around his dad – a former college quarterback himself – at practices while growing up, Christian had been emulating three- and five-step drops from a young age. So when Erick agreed to let him join a school team as a sixth-grader, the skill set to complement his remarkable size was already taking shape.
As a sophomore at Fork Union, Hackenberg beat out two seniors for the starting job, and suddenly everything started getting a lot more serious. The University of Virginia began taking a closer look, as the Blue Devils brought home a VISAA Division I state championship in 2010. Other schools were curious, too, but as the interest surged, the Hackenbergs narrowed their focus.
"I realized I could do what I always wanted to do," Hackenberg said.
The goal? Following in the footsteps of his father, who had played at Virginia and Susquehanna. "From that point on, it was one of those things where we worked really well together. That's where I got obsessed with just trying to refine things, get better, find ways to get stronger, find ways to tweak things."
That obsession, Hackenberg came to realize, played into a personality trait he'd come to know intimately, a desire to control his own destiny. The quarterback position gave him exactly that, a way to control the game. No other position provided the same opportunity.
Hackenberg helped lead the Blue Devils to a state runner-up finish as a senior while becoming a high school All-American and the nation's top-rated pro-style quarterback prospect. He arrived at Penn State the following summer and won the starting job as a true freshman, eventually producing a highly encouraging 7-5 season.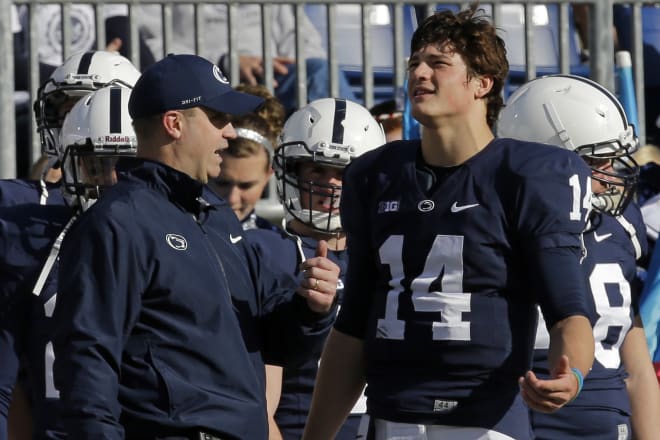 But in 2014, Hackenberg's feeling of control began to wane. O'Brien's departure had generated the most off-season attention, but Penn State also lost two-time Big Ten Receiver of the Year Allen Robinson and a veteran group of offensive linemen. In their places, the Lions welcomed a brand new coaching staff and brought in an inexperienced set of wideouts and a makeshift offensive line. The new starters struggled to recapture the success of their veteran predecessors, and as a result, Hackenberg struggled, too – and not just on the field.
Faced with a reality that wasn't as he had envisioned, challenges that for the first time in his athletic career were beyond his control, he began to sense his personality changing. "I became very introverted. I kind of shut down," he said. Thrice weekly phone calls from Fork Union coach Mickey Sullivan went unanswered and unreturned. During the season, he would barely speak to his parents and younger brothers. Even his friends, teammates and roommates found themselves shut out. "I don't know why I did it," Hackenberg said. "I can't answer that. I could have handled that better. I think that's just part of growing up."
Every day, Hackenberg said, he fixated on solving every problem. When his best efforts produced little or no improvement, he would retreat further into isolation. "I just couldn't communicate with people," he said. But he learned from the experience and vowed to not let it happen again. As he broadened his sense of what mattered in life beyond the field, the highs and lows of the game didn't dominate every other aspect of his day-to-day.
These days, he said, "I'm able to put the game down after the game. I'm able to hang out with my family and talk, have a great time, and not really think about it. And I'm content with that."
Part of that process involved accepting one of Franklin's mantras: control what you can control. "To that point, that was the hardest adversity that I think I've faced in my entire athletic career," Hackenberg said. "So reacting that way and being able to learn from it, that's something I'm very proud of."
It's not the only lesson he has learned during the past three seasons. He's also gotten better at filtering out the analysis of fans and media, including the national personalities who have weighed in on his performances. He said he's always had a sense of what it means to ignore the noise, but he didn't know how to completely block it out until this year.
"What I've learned is to genuinely not care. Like, literally not worry about what anyone's opinion is," he said. "Other than that, I understand it's your opinion and maybe you've been doing it for a long time, but you're not around me on a consistent basis. You don't know how I work. You don't know how I prepare. You don't know what I can do and what I can't do. So your opinion really doesn't matter to me because the only platform that you've seen me on is skewed at times."
That platform remained wobbly for much of the past two seasons, but Hackenberg's Nittany Lions have continued to win anyway. They were inconsistent this past fall but still won seven games in the regular season and improved to 4-4 in the Big Ten, guaranteeing that the team will finish with a winning record no matter what happens against Georgia in the TaxSlayer Bowl.
Along the way, Hackenberg's numbers and performances have painted a confounding picture both of brilliance and at times deflation. This year's opener against Temple was a nightmarish beginning, as he completed just 11 of 25 passes for 103 yards and no touchdowns. He was sacked an incredible 10 times, the highest single-game total in the Football Bowl Subdivision this season.
But he also had some spectacular afternoons, completing 21 of 29 for 266 yards and two touchdowns in a 39-0 rout of Illinois and throwing for 315 yards and three scores in a 31-30 win against Maryland. He finished the regular season with 184 completions in 345 attempts for 2,386 yards and 16 touchdowns, with only five interceptions.
Those numbers have boosted his career totals to the point where he is now the Nittany Lions' all-time leader in passing yardage (8,318), touchdown passes (48), attempts (1,221) and completions (685), among other records.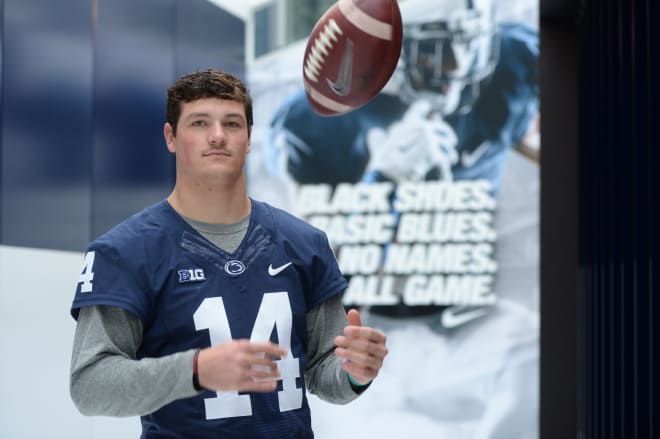 Hackenberg understood when he signed his letter of intent that there was a good chance Penn State's circumstances would preclude 10-win seasons and Big Ten titles. So the adversity he's faced since his arrival on campus hasn't tainted his view of what's been accomplished so far. In fact, he finds plenty of satisfaction in having played a major role in maintaining the program's prestige through the upheaval of the past four years. The most important thing, he said, has been "being able to sit there and look at myself in the mirror and say, 'You know what, I think you did pretty darn good considering everything.'
"I always looked at it as just kind of bridging the gap," he continued. "I wanted to make sure that we weren't going to be the dead program that wins two games a year. … I just looked at my role as making sure it didn't dip to the point where it could never come back to where it should be. And I think we've done that. Exceeding all expectations, we've got three winning seasons in a row now. And that's always been my role. I'm content with that. I'm totally cool with that."
As to his career beyond the bowl, Hackenberg has consistently declined comment, preferring to fend off the NFL talk as long as possible. But he has given thought to the future, specifically his legacy at Penn State. Asked how he believes it will be viewed in 40 years, long after he's done playing football, Hackenberg said he feels a sense of pride at what he and his teammates have been able to accomplish.
"I don't really know what's going to come of it in terms of legacies for all of us. That is what it is, and that handles itself," he said. "But I know personally, I'm always going to have pride in being able to look back at it. We exceeded all the expectations. We did what everyone told me I couldn't do and told us we couldn't do."
That realization has helped him come full circle.
For Hackenberg, football is a game again, just as it was back when he was tossing the ball around with his dad. The past three years have been, as he acknowledged, "an uphill battle at times," but that's been part of the adventure, too.
"I learned so many things about myself, about life," he said. "People asked, 'Why are you going there? What's the thought process behind that?' [It was] because people said I couldn't. Here I am. Being in the situation that I'm in, that is pretty cool."
* This feature is the cover story of Blue-White Illustrated's latest magazine, on newsstands now. To order a magazine subscription, click here! Or, call 1-800-282-1629.